Skip Navigation
Website Accessibility

View store hours, how to shop and other information on our Contact us page here.

Sheep's Clothing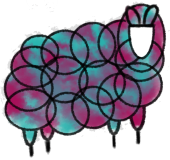 Special Closure Dates or Times Click here for details

.
---
Fleece Navidad Swap
DETAILS:

YOU MUST PAY THE $5 PARTICIPATION FEE TO PARTICIPATE. YOU CAN DONATE AS MUCH AS YOU WANT IN ADDITION TO BUY FOOD FOR THE TURKEY DRIVE.

Each participant will have both of the following roles: "Sheep"(Gift Giver) & "Lamb"(Receiver)

The Herders and their roles:

1. Email is: herders@aknottyhabit.com
2. The "Rancher" may contact you if there are items missing from your questionnaire, or if there is an eligibility issue. S/he sets up the master questionnaire that will in turn help the "Shepherd". S/he will be the main contact for any delivery, lateness or incomplete issues. The Rancher coordinates with the other herders, and should delegate tasks if a herder cannot continue, or is unable to perform tasks.
3. The "Shepherd" will be keeper of the questionnaires and set up the round robin assignments and work with the Rancher on the list for pairings. Assist in assigning / swapping pairings.
4. The "Llama" or Guardian will be the main watcher of posts and respond. Answer questions or address issues. Will be mainly responsible for responding in a timely manner to requests by the Rancher and Shepherd to answer questions they are unable to get to.
RULES & REQUIREMENTS:
1. ELIGIBILITY: Open to in-store customers, newsletter recipients, facebook followers & Ravelry group members.
a. Sign agreement form by Nov. 18th and fill out questionnaire!
b. Pay entry fee


2. All Sheep/Lambs must give a response to all questions. Be as specific as you want, this however does not guarantee your preferences will be reflected in your gift(s), but the more information your Sheep has, and makes planning easier but may limit or enhance creativity.
a. You will be paired with a Lamb ASAP and given their responses, so you can start planning your box. Your pairing is secret, so you only have their answers to go off of. Less information makes you more creative.
b. Allergies will always be taken into consideration with you pairing and by your Sheep.
a. BOX VALUE: $30 minimum, $45 maximum.
i. What does box value mean? Is that how much I spend? Value is not cost. For example, if the minimum value for yarn is $20, the skein(s) you send should be worth no less. However, you don't have to spend the value amount. EX. You can use stash yarn as long as it is new and properly labeled, or you might get an item 50% off at a sale.
b. Yarn, Fiber, or Related Gift: this could include a shawl pin or other the like.
c. A letter or card to reveal yourself!
d. Proper labeling: All yarn must be labeled with content, yardage and care instructions. Food, candy, coffee, tea, etc., must contain ingredient information. Attribute artists and writers when gifting their work.
4. Due Date: To Sheep's Clothing by 7pm(closing), December 16th, 2023.
5. Late Boxes: If a box misses the deadline, the Sheep goes on the Late list. Sheep have a grace period of 3 days to be considered Late instead of Incomplete, if: they contact the herders via email prior to the due date AND deliver by December 20th, 2022.
a. Sheep who have not turned in their box by this date will be put on an Incomplete List.
b. Sheep who have not turned their box, may not pick up their Lamb box.
c. A herder shall attempt to reassign or rearrange Sheep/Lamb parings or assign a Guardian to fulfill the box.
d. Late and Incomplete lists may affect the Sheep participation in future swaps.
6. Thank You and Pics. A thank you to the Sheep and a picture of the gift item(s) must be emailed to the herders, shared on the Sheep's Clothing facebook page OR/and posted to the thread in the Sheep's Clothing Ravelry group by January 5th 2023.
a. Lambs who are late with thank yous and pics may also be put on the late list. If the Lamb will be delayed, s/he should contact the herders' via email, to give advance notice. Example of notice: I will be going out of town for 2 weeks, and my box will be picked up when I get back.
7. Prizes: There may be prizes awarded based on different swap aspects -- for example: fastest box delivery, most unusual or creative gift, etc.
Sheep's Clothing Secret Sender Gift Exchange Copyright 2015 Knotted Fibers, LLC. All rights reserved.