Skip Navigation
Website Accessibility

View store hours, how to shop and other information on our Contact us page here.

Sheep's Clothing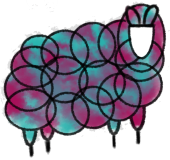 Special Closure Dates or Times Click here for details

.
---
Bamboo Bloom
Skein Information
Yards 154.00
Grams 100.00
Yarn Composition
8% Acrylic
44% Wool
48% Bamboo Rayon
Yarn Weight Information
Chunky/Bulky
Stitches Per Inch
Knit: 15 sts x 22 rows = 4" // US Size 9 (5.5 mm)
Crochet: 14 sts x 16 rows = 4" // US Size K-10.5 (6.5 mm)
Yarn Care
hand wash, do not bleach, do not tumble dry, do not iron, dryclean - any solvent
* limit 1 free pattern per purchase. Available Patterns: Bloomin' Capelet, Kimono Cardi, Cruelty Free Wrap, Garter Bands Beret, Chinese Clouds Hat, Quasi-Unfelted Bag, Handpaints Lengthwise Scarf, Hanasaku Cowl (knit or crochet), Hanasaku Stole, One Side Cowl, Spring Pullover, Lightning Strikes, Interrupted Cowl, Hairpin Cowl, Penelope Handpaints Cowl, Persephone Handpaints Cowl, or Short Row Corners Scarf.
We order from the warehouse 1 or more times a week, giving us the ability to offer more yarns at a lower cost, however shipping may take slightly longer.