Skip Navigation
Website Accessibility

View store hours, how to shop and other information on our Contact us page here.

Sheep's Clothing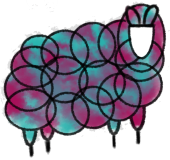 Special Closure Dates or Times Click here for details

.
---
Zen Yarn Garden
Yarn > By Brand > Zen Yarn Garden
---
Zen Yarn Garden, Inc. is based is Ontario, Canada and run by full time husband and wife team Roxanne and Neville Yeun. We take pride in providing the most luxurious fibres available for our yarns and dyeing them in a range of beautiful semi-solid and one-of-a-kind colourways.
Our yarn is special. We know that every hank you buy is destined to have many hours in your stash and on your needles before it becomes a garment or accessory item that you will wear proudly. With each skein, we strive to reflect the same passion that you have for your projects and craft in our yarns.
---