Skip Navigation
Website Accessibility

View store hours, how to shop and other information on our Contact us page here.

Sheep's Clothing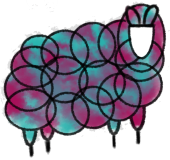 Special Closure Dates or Times Click here for details

.
---
Wendy
Yarn > By Brand > Wendy
---
Sitting in the middle of the market, due to its outstanding value, is the Wendy collection. We think of it in two distinct parts, firstly and most importantly is the Wendy Classics. This 21 yarn range collection has established long lasting classic yarns, consisting of a mix of blends and pure natural fibres (17 of them are 75% natural fibre or higher!!!). These are classic weights and traditional twists, perfect for making the heirloom pieces knitters enjoy creating for themselves. Our Wendy Fashion is a more diverse collection, encompassing everything from all natural fibre alpaca and wool blends through to pure polyester hairy yarns, and sophisticated adult design to fun kids scarf kits. This collection is on trend and can react and change to the swings and fads of fashion. We aim for each fashion yarn to be in the collection for 2 years at the outset, although if it is really desirable and fits the brief it might even find its way into the more established Classic range.
---