Skip Navigation
Website Accessibility

View store hours, how to shop and other information on our Contact us page here.

Sheep's Clothing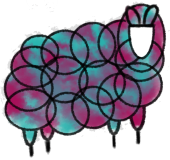 Special Closure Dates or Times Click here for details

.
---
Made in America Yarns
Yarn > By Brand > Made in America Yarns
Who we are…
Made in America Yarns is an online novelty yarn shop and the retail branch of Huntingdon Yarn Mill in Philadelphia, PA. We take pride in providing our customers with the highest quality yarns that are made in America and sold at mill-end prices.
What sets us apart…
We share a roof with Huntingdon Yarn Mill and dye house.
Made in America Yarns operates under the same roof as our partner, Huntingdon Yarn Mill, in Philadelphia, PA. That means that we have access to twisting machines, skein dyers, package dyers, and an expert staff – all on site! This unique configuration allows us to twist and dye yarns on demand and create one-of-a-kind styles.
Our yarns are made in America.
A bit of background is necessary to appreciate Huntingdon Yarn Mill's continuous operation in America since 1940. Between 1990 and 2010, the textile industry in America was nearly decimated due to trade liberalization policies and low costs of labor in China, India, and Mexico. On average, seventeen American textile manufacturers closed every day between 2000 and 2011. Automated processes have allowed textile manufacturers to compete once again in America. Huntingdon Yarn Mill is unique in that it survived the twenty year textile crisis using unautomated mechanical processes, and continues to use those same mechanical processes to this day.
We are family owned and operated.
It's hard to dispute the claim that family owned businesses evoke a sense of trust. The family mentality translates to long lasting customer relationships and ethical business practices. Both Made in America Yarns and Huntingdon Yarn Mill are family owned and operated. At times, three generations have worked together under the same roof!