Skip Navigation
Website Accessibility

View store hours, how to shop and other information on our Contact us page here.

Sheep's Clothing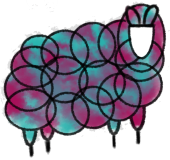 Special Closure Dates or Times Click here for details

.
---
Simplicity Solids
Its that time of year again!
September 7th marks the return of our Scoreboard knit-together, based on the unique and interactive cowl pattern of the same name. Created by the incomparable Michelle "Knit Purl" Hunter for skacel, Scoreboard yields a hand-knit wearable record of your favorite professional or college football team's season, with each row representing both points scored and points allowed.

Designed using HiKoo® Simplicity, the Scoreboard cowl is worked in a team's two main colorways, with many knitters opting to add a third color to create visual breaks between games.

Participating knitters using the featured yarn will qualify for exciting in-season giveaways and prize opportunities! Click the link below to register, and then follow our social media and weekly email blasts for opportunities to win!
PRO TEAMS







All listed colors and color pairings are approximate guidelines and not official representations of their respective teams.
Actual colors may differ slightly from how they appear on your screen, due to varying monitor settings.