Skip Navigation
Website Accessibility

View store hours, how to shop and other information on our Contact us page here.

Sheep's Clothing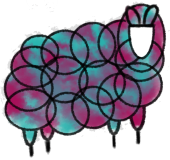 Special Closure Dates or Times Click here for details

.
---
HiKoo
Yarn > By Brand > HiKoo
---
High quality fashion yarns at affordable prices. Look for more amazing yarns and pattern collections soon!
---
We order from the warehouse located only a couple of hours away, 1 or more times a week, giving us the ability to offer more yarns at a lower cost, however shipping may take slightly longer.
Showing 1 - 35 of results