Skip Navigation
Website Accessibility

View store hours, how to shop and other information on our Contact us page here.

Sheep's Clothing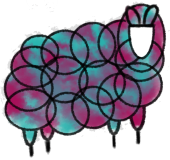 Special Closure Dates or Times Click here for details

.
---
Christmas Stocking Kits
Yarn > By Brand > Appalachian Baby > Christmas Stocking Kits
Our mission is to help you create cherished handmade family heirlooms….and whether it is hung in a mountain cabin or a high-rise downtown, these Christmas stockings will brighten up the holidays for years to come.
Each stocking kit includes stocking pattern, sufficient 100% US Wool Yarn to complete project, hang tag for recording date, knitter's name and recipients name, all tied up in kraft box with clear lid and secured with a gold satin ribbon, perfect for gifting or storing.