Skip Navigation
Website Accessibility

View store hours, how to shop and other information on our Contact us page here.

Sheep's Clothing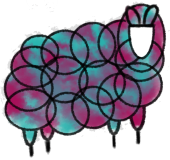 Special Closure Dates or Times Click here for details

.
---
Karbonz Circular
Carbon fiber is one of the most versatile material used in manufacture of the new generation aircraft, space ship, automobiles, etc.!!

Shiny, smooth brass tips comes in perfect points, flawlessly tapered – Ideal for all types of yarns and for every project

The needles have high tensile strength, are light weight with lot of flexibility

Surface made of carbon fiber helps the stitches move smoothly on the needle!!

Warm to touch & gentle in the hand

A smooth join ensures easy stitch glide and no snagging

Resilient, flexible cords lay flat with no kink or twist – easy to store

Now available in sizes US 0 (2.0mm) to US 10 (6.0mm), ideal for lace knitting, sock knitting, etc.