Skip Navigation
Website Accessibility

View store hours, how to shop and other information on our Contact us page here.

Sheep's Clothing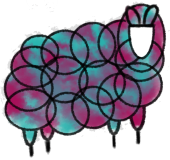 Special Closure Dates or Times Click here for details

.
---
Cumulus Patterns
Twiss Crescent Shawl
A lace pattern gives a lovely rippled effect on the edging, with cosy garter stitch creating the crescent shape of this pretty shawl.
Twiss starts out as a rectangle knitted sideways before stitches are picked up along the straight edge and a combination of short rows and decreases are worked to shape the shawl. Using 3 balls of Cumulus by Fyberspates, this shawl is worked on size 3.25mm needles to really accentuate the delicate loft of Cumulus that is the result of 74% Baby Suri Alpaca and 26% Silk.
The pattern includes both written and charted instructions for the lace sections which repeat enough that a novice lace knitter would enjoy this as well as providing something quick and interesting for the more experienced knitter.
Tarporley Scarf
A snuggly scarf edged with a contrasting panel of pretty ruffles, knitted in soft Cumulus yarn. Slipped stitches along the side of the scarf stop any curling and the ruffle borders add feminine texture as well as weight to this lofty scarf.
Ruffle borders, knit with contrasting yarn, are worked first before stitches are grafted together using 3 needles of the same size. The scarf is then worked in the main colour to create a seamless accessory with minimal finishing. Clear instructions are given for all techniques throughout for this deceptively simple scarf.


Etherow Shawl
A feminine triangular shaped shawl that is large enough to wrap around your shoulders and keep out the cold without adding bulk.
Worked up using 7 x 25g balls of Cumulus by Fyberspates, the all over lace showcases yarn with a delicate halo. Etherow is worked from the top down and the triangular shape is created by working increases along either side of the central 'spine' and at the beginning and end of every other row.
The edging is finished off with a crochet chain cast off. If you prefer not to work the crochet cast off, please use an alternative stretchy method such as the Russian Cast Off.
Aolani
Wrap your hands in the cloudlike softness of Cumulus this Autumn. Aolani, meaning 'heavenly cloud', are the perfect mittens to transition into colder weather. Super-soft and cosy, these fingerless mitts are knitted flat to allow a smooth transition of stripes using Cumulus baby alpaca and silk yarn.
The perfect knit for a novice knitter, the stripes add interest for those more experienced knitters and allows for some colour play in the darker days that winter can bring. Working with 3 colour choices, these mitts require less than 1 ball of each colour and are shown here in 'Sea Green', 'Water' and 'Teal'.
Ellora Scarf
A curvaceous cable panel runs between textured moss stitch in this pretty scarf, using soft and warm Cumulus yarn. This scarf is perfect for novice knitters taking first steps into cables as the pattern provides clear written and charted instructions.
This scarf uses 3 balls of Cumulus (shown here in Silver) and is worked on larger needles to make best use of this lofty yarn with a great halo. The cables form soft ripples down the scarf as a result of combining larger needles and thanks to the airy fabric Cumulus can provide, this scarf will work through most seasons as it is warm but not dense.
Modra Pullover
The Modra Pullover is a cute, fitted sweater, knitted in Cumulus yarn by Fyberspates. Worked flat before it is blocked and seamed together, this sweater looks best with no ease to show off the delicate lace detail that features in the body of this sweater and is echoed in the sleeves. Waist shaping is worked to add flattering shape to this feminine garment.
The pattern features schematics and details of fit to help you choose your size and includes both written as well as charted instructions.
Size range goes from 32 (34, 36, 38, 40, 42, 44, 46, 48, 50)in with an actual bust size of 32 1⁄4, (34 1⁄4, 36 1⁄4, 38 1⁄4, 40 1⁄2, 42 1⁄2, 44 1⁄2, 461⁄2, 48 1⁄2, 50 1⁄2)inches. Work up the closest size to your bust measurement with minimal ease for a snug and flattering fit.


Aowena shrug
The Aowena Shrug is a pretty, lightweight shoulder cover, with a simple and effective lace pattern for a little added glamour. Worked up in luxurious Cumulus, a Baby Suri Alpaca and Mulberry Silk blend from Fyberspates, Aowena comes in 4 sizes: S, M, L and XL.
This shrug is worked flat before being seamed during finishing and with easy to follow charts and simple stitch repeats this makes it a perfect beginner's lace project or ideal for knit night chatter for the more experienced knitter who needs a little stitch interest to hold their attention.