Skip Navigation
Website Accessibility

View store hours, how to shop and other information on our Contact us page here.

Sheep's Clothing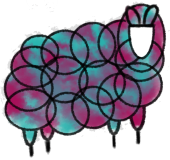 Special Closure Dates or Times Click here for details

.
---
Vogue S/S '20 Capsule Collection
Kits > Vogue S/S '20 Capsule Collection
The term capsule wardrobe popped up in the 1970s, coined by Susie Faux, who owned a London boutique called Wardrobe. The idea was to streamline your closet with a core collection of garments that were unlikely to go out of fashion and could be worn with any number of seasonal accessories. The theory gained in popularity in the '80s when Donna Karan showed her "Seven Easy Pieces." Back then, capsule collections were intended to promote a designer's most "essential" items, but as time goes on, the term has become
synonymous with attempts to make our lives more ecological, economical, and sustainable.
Make It Your Own: Tips to Keep in Mind
• Zero in on a color palette
• Opt for classic shapes and patterns
• Choose high-quality yarn, as your collection will be getting a lot of wear



Shipping cost on kits are set of each individual kit. When ordering multiple kits, contact us if shipping seems too high, we might be able to reduce your shipping cost.