Skip Navigation
Website Accessibility

View store hours, how to shop and other information on our Contact us page here.

Sheep's Clothing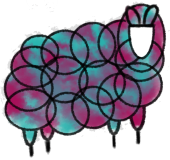 Special Closure Dates or Times Click here for details

.
---
Knitting, Crochet, Spinning, Felting & Other Classes, Events, Groups & Workshops.
---
You have options in your class scheduling
Currently scheduled Matrix or Specific Project classes

Weekly ongoing classes that you can start any time

Drop-in knitting, crochet, spinning & weaving groups.

These have been, only temporarily we hope, converted into "clubs" each will have it's own day, a limit of people meeting for that day and have monthly dues.

One on One Instruction

NOTES: As always you are welcome to come hang out a knit, crochet or spin by yourself or with a group of friends, but we are doing away with the old class system. More information here…
All classes are subject to a paid registration minimum of 2 student, 2 days prior to the class start date. If this requirement is not met, the class may be canceled. Students who pay for a class that is canceled will be contacted and a refund will be issued according to the store's refund policy, or the student can be enrolled in another class.
---
Every week, start any time
---
Knitting/Crochet 400 level Project Classes –
(Offered many mornings, days and evenings through the week, see calendar)
Project Class is a figurative "free-for-all" in terms of what you can learn. It is an ongoing class that has been around since Judie started teaching for Sheep's in the late 90's. You can learn any Matrix class 200+ and 100 level depending on existing class size.
Skills Needed: Come as you are! We can take you where you want to go!
---
---
---
KALs & CALs
---
Join us for a project and prizes! We participate in Knit-a-longs and Crochet-a-longs hosted by yarn companies we stock, our favorite designers or us! K/CAL support* is temporarily suspended, but you can join a Sweater, Top or Tee Project Class, or an anything goes Project Class, or one of the Naughty Knitter's Club days.


Winter Tee & Tea with Bellatrista ~

I don't know about you, but I can't wear my heavy wool sweaters when I'm indoors all day either at work or at home. I really like to wear my hand knits but I need something that is comfortable with temp changes. Dale at Bellatrista makes wonderful yarns with unique fibers that are just right. Milk, Soy, Bamboo, banana and Peppermint are shiny and soft like silk and breathable like cotton & linen. We've chosen a selection of long sleeve tee patterns that are worked in Dk weight or 2 strands of fingering weight held together; you could even hold the laceweight milk with the sport bamboo to get the right gauge.

Select pattern from

Ravelry Bundle here.
Choose any DK, sport & lace combo or double fingering combo in any variety of Bellatrista yarns.

Starts Feb 1st, but if you start later, it's fine.

Join the ravelry thread and/or facebook group for participants to chat and share their progress, ask questions and encourage one another!

Ends whenever you get done, there's no rush!

Prizes - there will be a prize drawings!

1 drawing for all participants* will be drawn on Feb 15th.

1 prize for first finished as well as featured photos and free blocking for your tee!
(*800yds DK /1600yds fingering/sport/lace, or more, as is minimum amount to complete the smallest size of eligible patterns. Expires 2/14/21.
**participants are described as: customers who purchase the bellatrista yarn & pattern from us for this KAL by Feb 14th)
---
We'll build on your skills and teach you how to make a fabric that doesn't curl for making scarves on long looms. See Sign-up page for details.
---
Drop-in Groups
Free coffee and tea will be available, as always. See calendar for days and times.
---
One on One Instruction
Each of our instructors is available for one-on-one instruction times. Check with them by email: info@aknottyhabit.com .
---
Build Your Own Class
---
Did you see a class before that you wanted to take but down see it now? Want to save more than 50% off of 1 on 1 instruction? Find a friend (or anyone else that wants to take the class) and talk to the instructor about a time that works for everyone.
$10 per hour per student, minimum 2 students for classes already established; 3 students for your own idea for instruction. 4.5 hour class total minimum (1.5 hour classes over 3 weeks)