Skip Navigation
Website Accessibility

View store hours, how to shop and other information on our Contact us page here.

Sheep's Clothing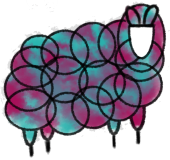 Special Closure Dates or Times Click here for details

.
---
Scroll to bottom to see information on:
Quorum ~ Student Discounts ~ Missed Classes ~ Late Sign-ups ~ A' la carte ~ One on One Lessons
Quorum: All classes are subject to a paid registration minimum of 2 students, 1 day prior to the class start date. If this requirement is not met, the class may be canceled (check your email). Students who pay for a class that is canceled will be contacted and a refund will be issued according to the store's refund policy, or the student can be enrolled in another class or converted to 1 on 1 lessons.
Student Discount: While enrolled in a class, students receive a 10% discount on most items. Students may (in most cases) also use an earned reward on their purchase too. This doesn't apply to just the day of class sessions. If a class is for Tuesday mornings and you shop on Saturday, you still get your discount. This discount is in affect until the last date of your class session.

Missed Classes: If you miss a class, you don't loose the time you pay for right away. Students have 6 weeks to make up a missed class. If you know you'll be gone, you can even make it up ahead of time. Make-ups can be done in any similar class setting with the same length of time that has a seat open. Even full classes have 1 seat for a make-up student. Just let us know when you can, so we can reserve you a seat.

Late Sign-ups: While you can't sign up online the day a class is scheduled to start, you can come in to do so. If it's the day of and you want to know if the class has quorum and will proceed, call, email or come in. If there's a seat, we'd be happy to sign you up in store. If you've missed say the sign-up and a session (or more depending on the class) the policy for making up is the same as above.
A' la carte: If you are enrolled in a multi-session class and need an extra session between classes, even or even after a class has ended (within 6 weeks), you can buy a seat in a class that has an open seat. Same rules apply as for make-up classes for availability and reservation. Fee depends on the class, usually $15-20. This is not the same as a One on One; you must be working within the paid class' project parameters. ie: You can't do an a'la carte for a sock when you were enrolled in a shawl class.

One on One: A 1 on 1 session may be made at times when we are not already teaching a class. You can call or email to schedule, please take a look at the calendar first to make this process easier. Fee is $20 per hour; Min 1 hour, billed in 15 min increments there after.